Bespoke Cruises
Your benefits:
When, where and who is with you: Your choice
Yachts: size, category and which kind is your choice
Create your own route and change it individually
Special events - celebrate your party on a sailing yacht
Best preparation with our service

Services
You book:

- Accomodation on board (normally 7 nights)
- Skipper for sailing your yacht
- Overall organization of the cruise and route as desired
Not included are fuel, mooring fees and meals. This allows us to adapt your cruise to your needs and respond while traveling to your personal wishes.
Special events on your sailing yacht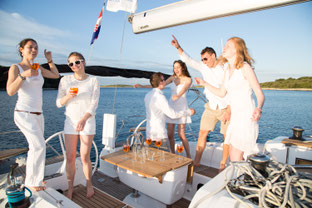 Wether bachelor party, men cruise, sailing trip for women or flotilla. On a sailing yacht or a catamaran, every occasion can be customized as completely different and new kind of holiday. Surprise your friends with the new idea of a sailing holiday. We like to organize the whole trip!
In the off-season there are also short-trips possible.
For example: an extended weekend - 4 days bachelor party on a sailing yacht round the island of Ibiza.
Examples of possible areas for your cruise
In europe at the Mediterranean:

CROATIA - MONTENEGRO - SICILY - SARDINIA - BALEARICS - GREECE - TURKEY - MALTA

All around the world:

CANARY ISLANDS - AZORES - CARIBBEAN - SEYCHELLES - THAILAND - PACIFIC
Contact us today: