FAQ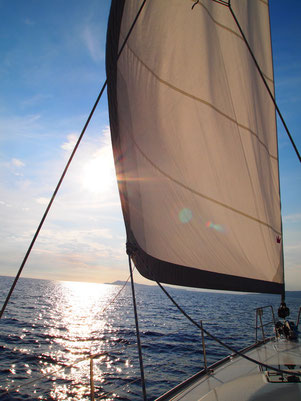 How do I get to the port of departure?
We can suggest an airport that is the most convenient for you. We can also get the boat to the nearest marina to make your transfer as short as possible.
Where do we sleep?
 On a modern yacht. All booked nights will be spent in comfortable cabins. If you want, you can sleep in the open air on deck. Life takes place on board.
Who's on board?
All persons in the booking, and the skipper, of course, who is responsible for the overall safety on board. He is your first point of contact day and night.
What does the accommodation
look like?
Depending on the number of people and depending on whether a sailing yacht or motor yacht is booked, there are different features and cabins on the yacht.
Check the two schematic illustrations (right here) to view a typical yacht.
What is the difference between yacht and motor yacht?
Basically: Both are motorized. Pure motor yachts are a little more spacious and equipped with more powerful engines (speed is up to 40 knots and more). Sailing yachts are cheaper, quieter during the trip, and as the name suggests, equipped with sails. With sailing yachts the route can be covered even without diesel consumption. You can choose between these two types of boats.
May I also sail?
Of course! There is absolutely no obligation, but everyone is welcome to attend, even to steer, trim the sail and plot the courses.
What is the difference between 'harbour' and 'marina'?
Both terms generally refer to harbours where ships are moored on land (using ropes). Marinas have a slightly better infrastructure (showers, electricity, water connection, usually a small supermarket in or near the area). In contrast to harbours, marinas are only for small boats / yachts (for example no cruise ships or oil tankers). Marinas are guarded and the mooring fees are usually slightly higher. (City) harbours, however, are usually closer to the centre and equipped with a little less infrastructure. In larger cities there are usually both harbours and also marinas. Harbours are operated by the respective city or the state, marinas are usually privately owned.
Where can I take a shower?
On the yacht there are indoor and outdoor showers available which are fed by an on-board water tank. In addition, in harbours and marinas there are also normal showers available.
Is there Wifi on Board?
You can book Wifi optionally. It will be available 24 hours a day, on board.
Do I need knowledge to be able to sail?
No knowledge is required. Of course, existing sailing experience is always welcome. This is Yachting and you can be as active as you want. Whether you want to just read a book as we sail or become an active crew-member.
What do I need to pack?
A recommended packing list will be sent to you 2-3 months before the booked period. Don't worry nothing special is required.
What is the plan to do in case of bad weather?
A Yacht-Holiday is an outdoor event and of course is weather dependent. In the very rare occasions when we cannot go out we have a program that includes shore excursions.
When do we plan to go ashore?
You will have the chance to go ashore daily. If we are in a bay, at anchor, we have a dinghy with an engine that we use to go ashore. It's also a great toy. 
What about electricity?
If we are in a harbour or marina, we have 230V available in each cabin. If we are in a bay, there is 12V socket for charging phones via a USB slot.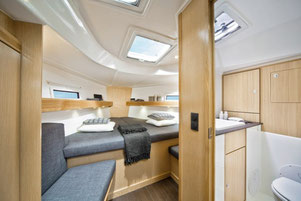 What about meals?
You can choose between hostess service or self-sufficiency.
There are two refrigerators on board, which work at sea. The initial provisioning can be ordered when you book the yacht-holiday. You can fill out a shopping list for ordering. The initial provisioning will be prepared on board. Of course, you can also organise the provisioning yourself.
You will have the opportunity to check out the local cuisine of course, with specific recommendations by the skipper. During the trip there are regular opportunities for shopping.
It is also possible to cook on board (with a gas stove). 2-3 hot plates and an oven are available.
Optionally, you can book a hostess who will take care of all the domestic duties and cooking.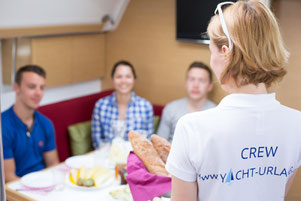 What if I get seasick?
It may happen but its very rare if you follow the guidelines here:
There are a number of measures and preparations that can be done to avoid or reduce the likelihood of seasickness.
Of course, there are medications (at any pharmacy without prescription), but in many cases simple things help:
Reduce eating heavy foods (such as meat)
Reduce drinking alcohol, especially spirits
Watch the horizon
Do not go inside the cabin if its moving.
Take the helm (steer the boat)
Eat products with ginger. (ginger biscuits)
If these preparations do not help, the skipper will take action to make the trip as comfortable as possible.
Was this helpful? If not, just contact us!